Downloading Purchased Digital Files
Each eBook purchase allows one (1) individual to use the file on only one device at any time. It does not entitle the user to share the file with others, or to place the files on any sort of server that would allow multiple users access to the file.
On the download page, you will see a section like this for each file you have purchased:
---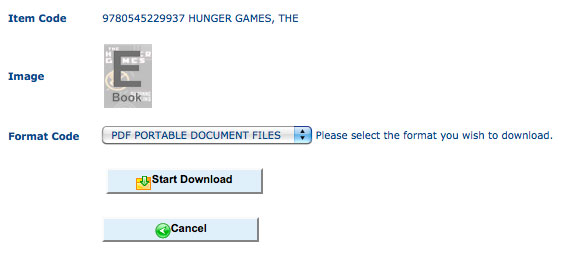 At this point you will be redirected to another screen
Some items may available in multiple format (eg: PDF, ePub, text). Of those available, please pick the one you want from the "Format Code" drop-down menu. Press the

"Start Download"

button.
If this was not the item you wanted to download, press the

"Cancel"

button, and you will be returned to the previous screen
---
All downloadable files are compressed in a zip file. This means that once the file is on your device you will need to uncompress it. Most operating systems have the functionality built in and you are simply required to double-click it once it is saved to your hard-drive to extract the files.

Some devices, however, may require you to install software that allows you to extract the files.

If you would like

to use the file on an iPad

, you can either download the file to a desktop or laptop and then email the file to the device, or use iTunes to sync the file with your device. To download the file directly to an iPad, first an unzip app must be downloaded from the App Store, (eg: iZip). Open the file in your unzip app, and then use the unzip app to open the PDF with iBooks. At that point the PDF will save to your iBooks bookshelf.
When Safari on the iPad prompts you, choose to open the download in your unzip app (in this case "iZip"):
Once the zip file has been opened in the unzip app, open it in iBooks (your screen may differ depending on the app being used):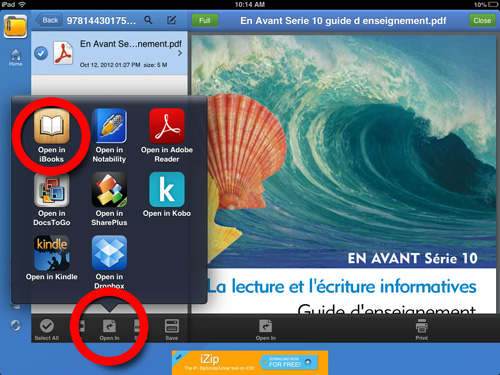 ---